My roll-off roof observatory which was relocated to Dorset, England in 2000. Landscaping of our new garden and other house & garden priorities delayed the observatory's re-erection. However the telescope was finally installed in the new observatory on 2001-06-10.
Originally called the 'New' Observatory, the observatory was later renamed the 'Kingcup Observatory'. The observatory was later moved back to a new site in Scotland (the Clair Observatory)
The KingCup observatory was built using the same shed and pier that were used for my previous observatory (Hilltop Observatory), which were dismantled from its NE Scotland site in March 2000. The observatory was designed to be capable of moving, the only thing that doesn't move is the concrete pier base. !
The Kingcup observatory was located in the back garden of our home which then lay at the edge of a Poole in Dorset, England. The site had a somewhat limited but nevertheless reasonable sky access. The minimum viewable altitude using the telescope in the observatory are 20 deg to S, W & N, 40 deg to E (so unfortunately I couldn't see Mars in 2001 opposition). The site unfortunately suffered light pollution from a i) overlooking streetlight and local lights and ii) nearby towns of Poole and Bournemouth.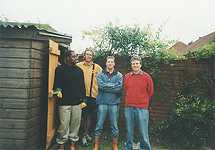 Photo: Myself (right) with work colleagues, Emeka, Marcus and Andy, who helped me erect the observatory at the Kingcup site