David's Astronomy Pages (Solar System)
Planets


Moon


Home
Page

Asteroids
---
Planets are a long way away and an 8" telescope is small in comparison with large professional telescopes. Consequently the views I have of the planets through my home telescope can in no way compare with the published pictures taken through the Hubble Telescope.

The diagram below shows the relative sizes of the planets as viewed through my 8" LX200 telescope, compared to each other and to the telescope's field of view at x206. I was somewhat disappointed by my first telescope observation of Mars, but careful observations can nevertheless be very rewarding - the more you look, the more you see.
The quality of the planetary views is dependant on a number of factors; views will be best when the planet is close to opposition (when planet lies closest to earth), and highest in the sky and when atmospheric seeing conditions are clearest and/or most steady.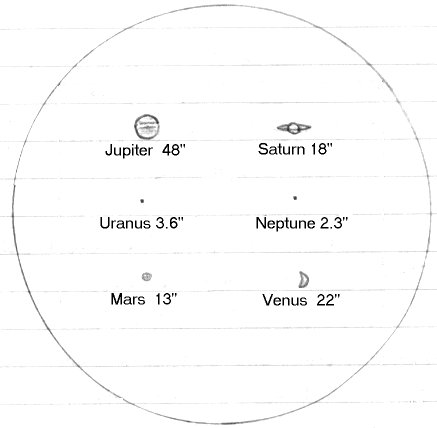 Relatives sizes of Planets through F10/8" LX200, 9.7mm eyepiece, x206
Back to Top
---
2007 (Naked Eye, Binoculars and Camera)
2002 (Visual)
I made my first positive sighting of Mercury in May 2002 during the relatively famous planetary alignment that occurred of that year, when Mercury, Venus, Mars, Jupiter and Saturn were all visible together in the western evening sky. There was a lot of public interest in the event and my sighting was during a public star party at Dave Strange's Observatory Site at Worth Matravers, Dorset.
1996 (Visual)
Earlier I had a possible sighting of Mercury on 1996-04-01, lying between Venus and the NW horizon
Back to Top
---
1996 (Drawing)
Back to Top
---
2003
Recorded images of Mars when close to opposition.
Recorded my first CCD image of Mars when close to opposition in July/August 2003.
1995
Viewed Mars when close to Opposition in January/February 1995. It was the first planet I looked at through the LX200 and I was initially disappointed that it didn't appear as a larger disk and didn't show more surface features. My expectations since have become more reasonable.
Following sketches of Mars, showing darker maria markings. The position of markings at roughly the same time of the evening of 1995-Feb-20 and 1995-Feb-22 indicate an approximately 15 deg difference in position of Mars surface. Calculating it out, this is consistent with 24.5 hours day length on Mars, as Mars will rotate 705 deg in the time that Earth rotates 720 deg (i.e. 48 hours).
First attempt at photo of Mars
Back to Top
---
2003
2002
2001
1999
1998
Jupiter is a regular target for my telescope, when its sky position allows. It is appears as the largest of all the planets through a telescope with an apparent diameter of around 47 arc seconds (in contrast Mars only gets to a maximum apparent diameter of around 13 arc seconds).
Four of Jupiter's moons are visible orbiting around planet.
Back to Top
---
Jupiter has lots of moons, but only the the 4 biggest moons are visible through an 8" telescope. They make an interesting subject for telescope observation, as their motion around Jupiter can be followed over the course of a few evenings or even during an evening itself. Jupiter moons can also be readily seen through good binoculars.
2002 (CCD Imaging)
In 2002 I recorded an occultation of Io by Jupiter during a 3.1/2hour CCD imaging session. (See animated sequence of CCD Images of Io Occulation 2002-03-07).
2001 (CCD Imaging)
1999 (Photo Imaging)

1998 (Drawings)
Io (a moon of Jupiter) was watched through the course of the evening of 1998-Nov-01 as it transited across the face of Jupiter.
Drawings showing successive stages of the transit (37 kb).
1995 (Drawings)
When one of Jupiter's moons passes between the Jupiter and the Sun, it can cast a shadow on Jupiter, which can sometimes be observed, see following sketch.
Back to Top
---
2001 (CCD Imaging)
1999 (Photo Imaging)
1995-1999 (Drawings)
Saturn is famous for its rings. These can be clearly seen in through by telescope and the changing tilt in the planet can be viewed over successive years as the following sketches show.
Four to five of Saturn's moons can be seen orbiting around the planet.
Back to Top
---
2001 (CCD Imaging)
1998 (Drawings)
The motion of Saturn's moons can be followed over the course of a few evenings, just like Jupiter's Moons, as these following sketches show.
Back to Top
---
2002 (CCD Imaging)
I took my first CCD Image of Neptune on 2002-09-01, and then imaged the plant on 3 more occasions over the next 20 days. I was able to image the moons Oberon and Titania and observe their movement around the planet.
1998 (Visual)
I viewed Uranus on 1998-Aug-14 , on the same night that I saw Neptune for first time. The planet had a very small yellowish disk-like appearance.
Back to Top
---
2002 (CCD Imaging)
I took my first CCD Image of Neptune on 2002-09-23, when I was also able to image the moon Triton (Mag +13).
1998 (Visual)
I had my first view of Neptune on 1998-Aug-14, it had a small disk like appearence, but relatively little else to distinguish it. It lay in the same part of the sky as Uranus. Finding it would have been difficult without the GOTO function of the LX200. It was distinctly smaller and dimmer than Uranus. I viewed Neptune again on 1998-Nov-01.
Back to Top
---
Pluto

(now formally regarded as a dwarf planet)
2003 (CCD Imaging)
An object, believed to be Pluto by comparison with a starfield generated by TheSky software program, was imaged with CCD in Jul 2003. It's apparent magnitude (+15.6) was noted to be a lot dimmer than Pluto's catalog magnitude (+13.8). A later image was collected which provided confirmation that the object imaged was not a star.
A series of CCD images of Pluto were taken over 3 days in August 2003 which clearly show the motion of the planet against the background stars in constellation Ophiuchus.
2001 (Visual)
I haven't seen Pluto as at 2001. Using TheSky software I located and observed the precise sky position at which Pluto lay in the constellation Ophiuchus in 2001-Jun. However at Magnitude +13.8 it was just too dim to visually see through the LX200 with the naked eye, limiting magnitude was judged to lie at around Mag +12.

I will try Pluto again when visual viewing conditions are better. I will also try to image Pluto when I get a CCD camera (see 2003 results above)
Back to Top
---
| | |
| --- | --- |
| This Web Page: | Planets |
| Last Updated : | 2015-05-16 |
---