David's Astronomy Pages (Stellar & Deep Sky)
Nebulae


Star
Clusters

Image
Gallery

Home
Page

Galaxies
Planetary Nebula
This page summarises observations and images of various types of nebulae.

For a listing of all Nebulae Images see Image Database - Nebulae

Bright Nebula
Dark Nebula
---
M27 (Dumb-bell Nebula) (Vulpecula)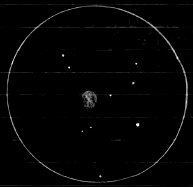 Inverted from original sketch, 1995-Aug-31
F6.3/8" LX200, 26mm.
M27 Planetary Nebula (Vulpecula)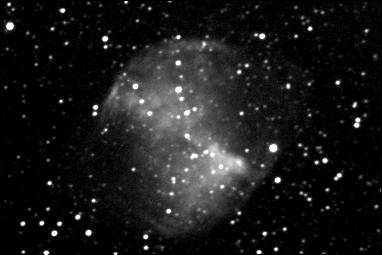 2002-09:12 22:31 to 23:04h UT
Enhanced CCD Image, 6 x 5 min exposure
11.4 x 7.6 arc min (#25023-28)
M27 (Vulpecula)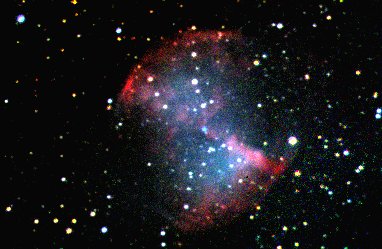 CCD Colour Image (LRGB)
Luminance 3x1min (average), Red : 3x1min (average),
Green 3x1min (average), Blue 3x2min (average)
Processing and combined using CCDSoft.
Brightened using PaintShop Pro
8" LX200 with operating at f/10.3
2005-05-18 01:34 h UT (#87135-50)
(See M27 images by individual filter)
M57 RIng Nebula (Lyra)
Inverted from original sketch
1998-Aug-14
F10/8" LX200 9.7mm,
x206, 15' FOV
Inverted from original sketch
1999-Sep-0 2
F10/8" LX200 26mm,
x77, 41' FOV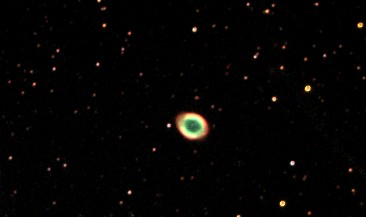 CCD Colour Composite Image of M57
Luminance (C med 3x30s), Blue 220% (B av 3 x 60s),
Green (V av 2x60s), Red (R av2x60s)
2004-09-18 23:16 hUT (# 72004-16)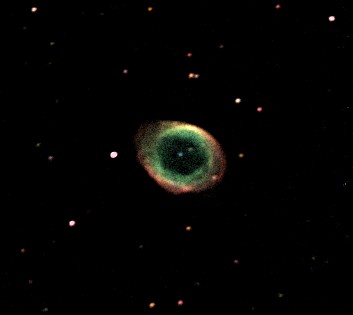 CCD Colour Composite
Luminance Image taken on 2003-08-03 from southern England (#47146-55)
(C sum 10x30s, f/10, 1x1 binning, unsharp masked)
combined with
Colour Images taken on 2004-09-18 from NE Scotland (# 72004-16)
Blue 260% (B av 3 x 60s, f/7, 2x2 binning),
Green (V av 2x60s, f/7, 2x2 binning),
Red (R av2x60s, f/7, 2x2 binning)
[ Full Size | Original Luminance Image ]
Back to Top
---
M42 in Orion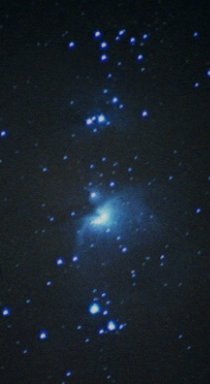 Photo, 1999-Dec-06
300mm, f/5.6, Fujicolor 200
15 minutes exposure
(Image enhanced & cropped)
M42 (Great Nebula), with Trapezium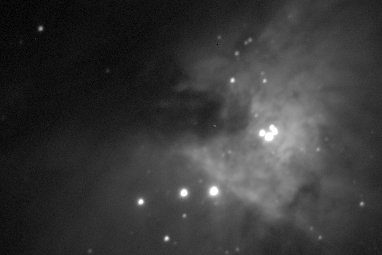 2001-12-14, 23:35h UT
First CCD Image of M42, 15 sec exposure (#11076)

M42 (Orion)
First colour image with new CFW-8 Filter Wheel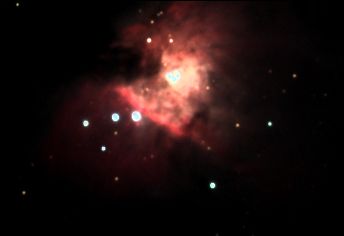 First CCD Colour Image of M42
Red 3x10s (av), Green 3x10s (av),
Blue 3x20s (av). Luminance 6x10s (av)
2004-02-05 22:20 to 22:27 h UT (#56008-25)
Back to Top
---
Apart from noticing the odd 'gaps' along the path of the milky way, I haven't made any serious observation of Dark Nebula as yet.
IC 434 - Horsehead Nebula (Orion)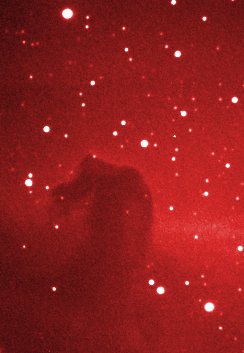 False Colour CCD Image
19 x 1 min exposure (average combine), C Filter
2005-01-05 23:06h UT (#82085-105)
Back to Top
---